While Duncan Mee, Ashley Jones and David Bond are out at the South X South West Festival in Austin Texas, we've been pleased to announce the UK cinema release of Erasing David. For more details checkout the News section on our website
here
.
We've also been taking a look at the reviews and praise of Erasing David coming out into the cloud and blogosphere from the festival. Google 'Erasing David' or check out those links below:
10 Films (And More) To See At The 2010 South By Southwest Festival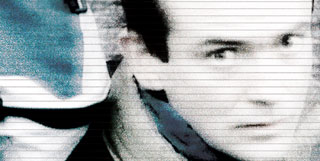 Erasing David
- You think you are being watched living in the United States. Well, the United Kingdom is the third highest surveillance state in the world and it is home to David Bond. As an experiment, David wanted to test the waters and see where his paper footprints say about him. What could bills and purchase habits online provide for the government or any interested party in tracking him down? So for a month he decided to investigate by leaving his life behind and dare a pair of experts to find him.
Click the link above to read more.
11th March 2010 by Charlotte Cook from the www.thedocumentaryblog.com.
Erasing David is showing at next week's SXSW and I can't recommend it enough.
Filmmaker David Bond grew increasingly worried about how much information is held on us by organisations and the government and took the gutsy step of trying to go off the map for a month. He hired a team of private investigators to track him down and the film follows this journey. As someone living in Britain it's a terrifying watch, especially in scenes where David manages to get hold of all the data held on him by communications companies and online stores. The film itself is thrilling, funny and although scary, highly entertaining.
Erasing David is one of the best films I've seen so far this year, and you should definitely check it out.
There are details below the jump of where and when you can see it.
Official Synopsis:
David Bond lives in one of the most intrusive surveillance states in the world. He decides to find out how much private companies and the government know about him by putting himself under surveillance and attempting to disappear – a decision that changes his life forever. Leaving his pregnant wife and young child behind, he is tracked across the database state on a chilling journey that forces him to contemplate the meaning of privacy – and the loss of it.
Once the bastion of freedom and civil liberties, the UK is now one of the most advanced surveillance societies in the world – ranked third after Russia and China. The average UK adult is now registered on over 700 databases and is caught daily on one of the 4 million CCTV cameras located on nearly every street corner in the country. Increasingly monitored, citizens are being turned into suspects. But if you've got nothing to hide, surely there's nothing to fear?
When David receives a letter informing him that his daughter Ivy is among 25 million residents whose details have been lost by the government's Child Benefit Office, he begins a journey that will see him hounded across Europe.
David soon discovers some alarming truths about what the government and private companies already know about ordinary citizens. He meets people who have been caught in the crossfire of the database state and have had their lives shattered.
As his concern grows, he makes a life-changing decision. He will leave his pregnant wife and child behind and put himself under surveillance for thirty days. The UK's top Private Investigators are hired to discover everything they can about him and his family – and track David down as he attempts to vanish. Is it still possible to live a private, anonymous life in the UK? Or do the state and private companies already know too much about ordinary people?
Forced to contemplate the meaning of privacy – and the loss of it, David's disturbing journey leaves him with no doubt that although he has nothing to hide, he certainly has something to fear…
Erasing David is a documentary about privacy, surveillance and the database state.
Erasing David will be available on on iTunes and Amazon VOD during SXSW and will then debut on cable VOD two weeks later via the wonderful people at Cinetic.
For those in the UK it's on release in cinemas from April 29th and will be shown on Channel 4 on the 4th May.
Click the link above to read more.